First and foremost, like that of what I said regarding book reviews, I do not know how to review a product properly. I do not know the nitty-gritty of make-up to do comparisons of same items/different brands. I, most likely, will not post pictures of my face with the product as I look like shit. Haha. But who knows. On with the program...



I cannot remember when

.. Oh, wait. I remember now.

The first time I've heard about Korean cosmetics was when I was looking for contact lenses to use for a cosplay.

Err.. what's the connection? Back then, most online sellers who sell lenses were also selling BB creams. I got curious as to what BB cream was and took a liking to it.

Unfortunately, I was only starting out for work back then and I could not afford to buy one since they cost an average of P600-P1,000+++. I bought a phone back then and I just couldn't cough up the amount to buy outright (every peso counts to pay for the phone as it was worth almost P20,000 back then). I was also scared of buying from online sellers since I was very, very new to the notion. And I also didn't like the expensive shipping fees.

Anyways, some time in 2009, I heard that there was an Etude House kiosk in SM Makati
(although I knew there was a boutique in SM Megamall, I dislike going there because it's tedious to go home after). I visited the kiosk and got myself my
first ever BB cream
and a 55 Kissful Chou.
And then I found out that they opened a boutique in SM North EDSA and well, the rest was history!
One of the reasons why I like to buy from Korean brands is that these are quality products wherein you only have to pay almost half the price of the high end brands.
Why these instead of the local make-up brands? Unfortunately, I do not like the color selection and texture of most local brands. Either the colors are too obnoxious or they do not show at all. Maybe also since I am partially Chinese, well I have yellow undertone? (Simpsons!??!)
Bottom line is I get good quality products with prices that won't hurt my wallet.
So far, I have tried buying from Etude House, Tony Moly, Missha (from an online seller friend), The Face Shop, and Nature Republic.
Another thing that these brands have that local brands don't is their membership/VIP cards. I already have a card from Etude House, Tony Moly, and Nature Republic. The one from EH is the most abused, although, I have not used the rebate system. I can't remember if you need to show them your card for you to be eligible to get their GWP (gift with purchase). However, the one I like the most is the card from Nature Republic. NR's card automatically gets you 10% off from all of their products.
I am hoping to get the Club 20 card from The Face Shop tomorrow. I keep on forgetting to ask about it even if I pass by the boutique everyday.
So speaking of perks,
Korean brands offer various freebies when you purchase from them!
However, people should note that the freebies you get depends on how much you spend. Mostly, these shops require you to spend a minimum purchase of P500 to get something. I'd like to point out that with P500, you can take home at least two items so that's not too bad, right?
The freebies you can get can be as simple as a bookmark or as awesome as a travel kit.
Today, I would like to show you some of the freebies I have accumulated and adored.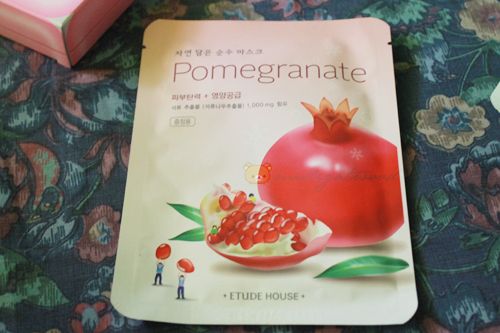 1. First ever freebie I got (it's not the same one I got, I meant the kind of freebie). This is a Pomegranate facial mask from Etude House. I got this for a minimum purchase of P500. Not bad since the prices of their masks starts at around P80, I think.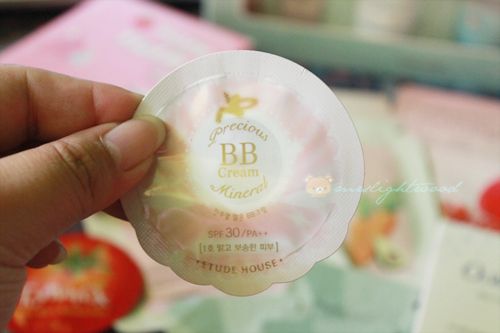 2. This one's a Precious Mineral BB cream sample. I got two of these, but I no longer know where the other one is. LOL. Got this for a minimum purchase of P500. Or it was with the mask above. Can't remember.
3. Tomatox Magic White Massage Pack from Tony Moly. Get this for a minimum purchase of P500. I have not used this yet. I'm still summoning the courage to do so as I read from a review that it can be quite painful when left on the face for too long.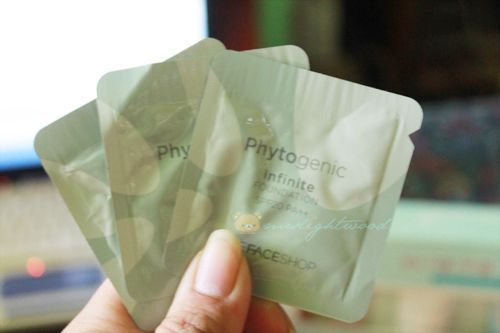 4. Phytogenic Infinite Foundation from The Face Shop. Got this for a minimum purchase of P1,000. I remember that it was P1,000 because this was the time my mom bought the Honeysuckle perfume.
5. Face masks from The Face Shop. You get two of these for every purchase of P500. They gave me 4 I think because I spent P1,000.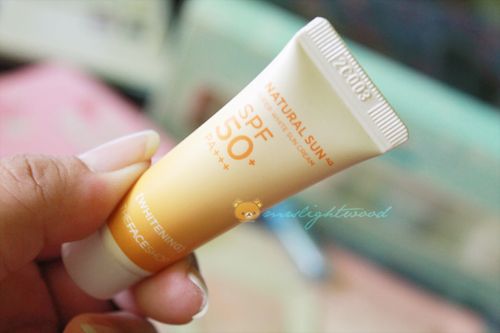 6. A tube of Natural Sun sun cream from The Face Shop. I got this together with the masks above. You get this for a minimum purchase of P1,000. Oh wow! The SA's at The Face Shop were gracious that day. I brought home 5 freebies.
7. Toner from Tony Moly. I remember being asked what Freebie I wanted because I used an RCBC credit card to pay for what I got. It was this or a facial mask. I chose this only to realize that I should've opted for the mask due to the size of this toner. Got this for a minimum purchase of P500.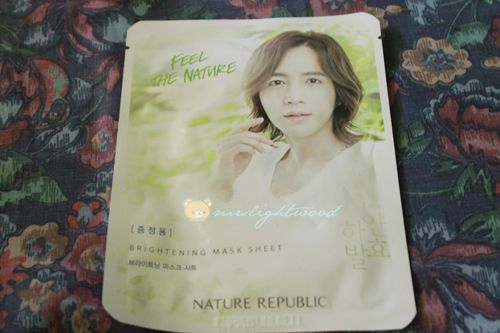 8. Nature Republic Brightening Mask Sheet. I spent P1,000 at the store that day and got the card and 3 of these masks.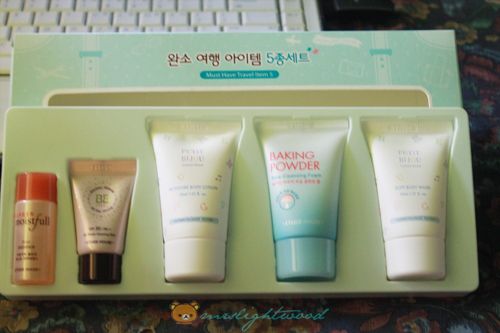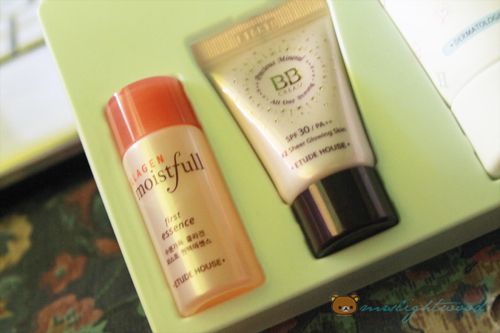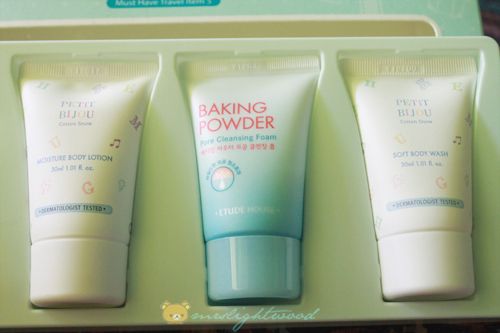 9. This would be my most favorite freebie up to date (well, unless I get something better). This is the Must Have Travel Kit # 5 from Etude House. I spent a minimum purchase amount of P3,000 and got home Petit Bijou body wash and body lotion, Baking Powder pore cleansing foam, Moistfull Collagen essence, and a Precious Mineral BB cream. I swear by the smell of the Petit Bijou stuff. They are still sealed but they smell so awesome!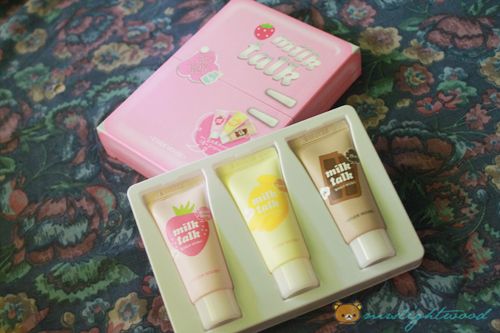 10. This is the most recent GWP I have. I got this yesterday from Etude House. I spent P2,000 and got 3 tubes of body wash. They all smell so nice, especially the strawberry one.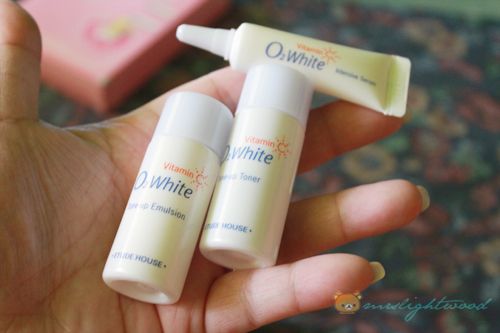 11. Yesterday was the last day of The Great Northern Sale and Etude House participated in the sale (although, the sale items are the ones included in their Mid-Year sale). The things I got were not on sale; however, I got what I wanted so that's fine. They conducted their "Sweetie's Spin" promo for the sale and I got two boxes of the O2 White Vitamin C trial kits. For every purchase of P1,000 you get one spin. I had the chance to spin 3 times (twice for spending P2,000 and another spin for getting a "get another spin" reward). I prayed that I would get this and lucky me, I got this twice!
So there are my freebies. LOL. I know it's a marketing strategy to get people to spend more than they should, but I do believe it's also a helpful way for the stores to promote their products to the people. Some freebies may seem not much especially compared to the amount you have spent; however, a greater majority of stores in the Philippines do not offer these. They don't need to do this to get people to buy from them, they do this as a service for their patrons.
And another thing, I am not a beauty blogger nor do I spend so much when I go to the Etude House boutique in SM North, but I have fallen in love with the people in the shop more. Where else can I go in wherein the staff knows me, my mom, my cousin, and my brother?!