I'm writing this post while listening to Psy's Gangnam Style and Tasty's You Know Me.
And I just realized that they sound alike!
I have been swamped with a lot of things regarding reality- which is better know as
work
.

I actually have 2 posts that I never gotten the chance to continue because of it and then I keep on forgetting. Pfft.
Moving along, August is almost done and one of the days next week will mark another year in my life. Weee!
August had been a very expensive month for me.
I have spent much more than I can afford so I really need to cut down on my impulse spending.

I should seriously give wallet a rest and I hope I can actually do it!
Since I've already mentioned that I have spent a lot (a lot because I am also juggling my cosmetics purchases with paying for 4 gadgets), today I will showcase my haul for August.
Tadah!
This month I have ordered from
Charmaine
twice, went and bought items from Etude House thrice, once in Daiso/Saizen, and once in Japan Home Center.
From Kkochipida
:
Mizon Watermax Moisture BB Cream - on sale for P385
Lioele Blackheadzero Nose Patch - on sale for P75
Elisha Coy Always Nudy Sample Sachet - free
Missha Time Revolution Night Repair Sample Sachet - free
From Etude House
:
Put Your Hands Up Face Waxing Patch - P448 for a box of 10 patches
Wonder Pore Special Set - P1,548 includes 500ml Freshner, Whipping Foam, and Brush
Mask Brush - P98
Wonder Pore Freshner Spray Bottle - P98
Black Charcoal Chin Patch - P38
I Need You Lemon Mask Sheet - P58
I Need You Royal Jelly Mask Sheet - P58
Essence Mask Vitamic C - P58
Essence Mask Vitamin E - P58
Missing You Tin (prize from their Sweetie Spin promo in SM North EDSA) - free
O2 White Skin Care Kit (prize from their Sweetie Spin promo in SM North EDSA. This is my 3rd set. LOL) - free
Milk Talk Sampler Set (GWP for EH boutiques if you spend at least P2,000) - free
From Daiso/Saizen
:
Silicon Facial Cleansing Pad - P85
Daiso Charcoal Mask - P85
Black Nanosilver Clean Puff - on sale for P25 (I got 4!)
From Japan Home Center
:
Catena Mask Sheets - 3 for P88 (I bought 6)
Now here's the fun part! The items I have listed above that has this Hello Kitty face right here
, I have already tested. Hooray!
Obviously I have so much to share.
But before that, I mentioned on my last past that I have been impulsively buying the things I have and well, the last Etude House haul was the most impulsive of all.
Supposedly, I was just going to buy the Face Waxing Patch, but they had another Sweetie Spin and I really wanted a new toner. They didn't have the toner on stock when I was there and the set was all they had. The SA (not Rizzy, though) calculated what I would be paying if I bought what was in the set individually, so the set ended up being somewhat a good deal already (but again, it was not part of my plans to buy it that day).
Aside from the price, my brother was pestering me to buy because he wants it too (to freeload from me, anyway!). Apparently, his girlfriend already bought the Freshner but her mom asked some of it. So no more for him. LOL.
I don't want to blog about all of those I tried out in one post. You'd prolly get to lazy to read it if so.
I'll start with a few things today and I will also try starting on the others with their own individual posts soon after.
I should probably start with the easy ones:
Lioele Blackheadzero Nose Patch and Etude House Put Your Hands Up Face Waxing Patch
.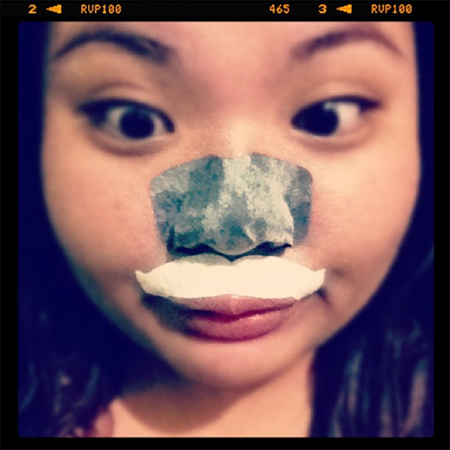 Please forgive my fugly (duck)face. I was having too much fun with my iPad when I took that.
I've been seeing reviews regarding the Lioele Blackheadzero Nose Patch and most of them were positive.
I was supposed to buy 2 boxes of this (one for me and another for my workmate); however, Charm only had 1 box left! As a compromise with my workmate, she asked me to order her a Missha Perfect Cover BB cream (so we can save with the shipping fee as well) and give her one strip so she can try it out.
According to her, her nose was smoother after using it. After a few days I used a strip as well.
I can't even remember the last time I've used a pore strip (but I do remember that it's the one from Bench) and it mostly likely didn't do anything for me because if it did I wouldn't have stopped using it. I also tried using iWhite, but it was so annoying to use.
According to the package:
Liole Blackheadzero Nose Patch: Instantly cleans clogged pores and removes blackheads
After washing face, wet nose with water sufficiently and then apply the strip to the moistened nose are with the shiny side facing your skin.
Let the strip dry for 10 to 15 minutes.
After the strip is dried, slowly and carefully peel off strip.
So I tried this and it applied well on my nose. I also felt my nose tightening in the process and it did remove most of the blackheads and whiteheads I had on my nose, although there were still some on my nose. Maybe because my pores weren't open properly or I just need to do this twice a week. Maybe.
Also, there were sticky residue from the strip on the sides of my nose when I removed it. I still had to wash my nose with water. And it has this weird smell. It's not bad, it's just weird.

Removes blackheads and whiteheads well
Makes nose feel soft and smooth
The price! (from Kkochipida anyways)
Not available locally
The price! (This is being sold for P245 per box of 5 by Lioele Philippines)
Left residue on my nose
Weird (but bearable smell)
Will I buy this again?: Definite yes, although from Kkochipida.
Now onto Etude House's
Put Your Hands Up Face Waxing Patch
.
According to the package:
Formulated with moisturizing Aloe Vera, Green Tea, and Chamomile extracts, this cute style facial wax patch removes mustache-like hair quickly and easily, leaving your under nose skin clean and smooth.
After washing face, thoroughly wet your under nose skin. The strip won't stick on dry skin.
Dry hands. Peel patch off plastic liner. Apply to under nose area pressing down to ensure good contact with skin.
Let dry for 10-15 minutes until stiff to the touch. Slowly and carefully peel off starting at edges, pulling toward center.
Use 1-2 times a week.
The moment I saw this posted on Etude House Philippines' wall, I was ecstatic! I inherited the facial hair curse from my mom and it's really annoying. They're not as bad as the ones of guys but the ones of my face are noticeable.
Obviously I was happy to find a way to remove the facial hair but I guess I expected too much from it.
Why?
Although it did remove the really small ones, the ones that are barely there; the noticeable ones were still on my face.
Now I can't say for sure that it doesn't really work since it did remove some hair, even if they weren't the ones I really wanted to eliminate.
I'm giving this the benefit of the doubt. Maybe I did it wrong. Maybe I didn't press down firmly so the hair will stick to it. Pfft.
I'll prolly try this one again sometime soon. But I'm not going to keep my hopes up. I'll update this post with the final verdict soon.

The fit of the patch is just right and adorable.
Available locally
Removed that hairs I can't remove because I can't see them
Doesn't hurt when being removed
The price I suppose, especially if I prove that it doesn't work
Did not remove the noticeable facial hairs
Not really sure if it's really meant to remove mustache
That's it for now. I have other products to share with you guys and I am hoping that I will get to post something about them sometime soon. I'm especially excited to share my thoughts about the
Mizon Watermax Moisture BB cream!
Oh yeah!
The Touch of Yellow is having a giveaway
!
This is open internationally and her giveaway includes awesome stuff and there will also be a consolation prize. So why not visit her blog and give her some love?
Click here to join her giveaway!
Hi! Sharing your thoughts and experiences is highly encouraged and appreciated. Please do not hesitate to leave your website/blog URL for me to check out either by leaving a comment or posting on the Cbox. Thank you!