The weather is now better in the Philippines (for most part). There are still places having flood problems but I am very much thankful that the rain has stopped and my fellow Filipinos can recuperate from the damages and loss.
And before anything else...
Bunnyfuldays
is hosting a giveaway!
Went back to regular work schedule last Friday and yesterday (Saturday) was my last day of work before my off days. I was telling my workmate about joining the
Etude House Philippines Help Me Find My Stuff contest
and my hopes of finally winning. LOL. It just started last Tuesday and will go for 5 rounds. I've joined the first 2. There's already a winner for the 1st round and IDK what about the 2nd round. I'm getting antsy about it.

I told her about the prizes and she got curious about the Milk Talk body washes. I told her that I got a Milk Talk GWP from Etude House last month and that they all smelled great. Apparently she likes these kinds of things; hence, I offered to drop by Etude House is Watson's SM Makati on my way home to check the price of the Milk Talk.
Before I even found the Milk Talk I saw 2 tubes of EH's Happy Teatime Lemon Cleansing Foam; one was a tester and the other was the last tube available.
So even buying anything was not part of my plan (I was saving up to splurge on Etude House, Tony Moly, and The Face Shop, I was just waiting for their new GWP line up), I had to buy it.
I suppose some of you are wondering why I had a teensy panic buying attack for the cleansing foam. Well, the Happy Team Time Cleansing Foam line is already phased out and was replaced with the Happy Essential Cleansing Foam line. The Essential foam line is said to be the upgraded version of the Teatime line. I haven't tried the new ones yet because I'm still using my old tube of Happy Teatime Lemon Tea Cleansing foam, so I can't say what the difference is.
The Essential Cleansing foams are retailed for P228 (around $3-4), the Happy Teatime foams were retailed for P148 ($1.50-2). So yeah, I had to rush in buying the last tube of one of my most favorite cheap thrills. For info, one tube of the Tea Time foam has 150ml of product that will last you 4-6 months depending on usage. Yes, that is one awesome cheap find!
The reason why I love this cleansing foam is that it makes me feel like my skin is really clean after a hard day out. Before the I got bitten by the Korean cosmetics/skincare craze, the only wash I use was Pond's Facial Wash. I have oily skin (although, the staff at Let's Face It said I had dry skin. I dunno. I think she's blind. Or she was pertaining that I had oily-combination skin. Pftt) and I refuse to use anything other than Ponds because most of them made me feel like I didn't wash enough.
I do not like that feeling of "moisturized" skin after washing (hence, also my dislike of using Dove/Caress soaps) as I end up feeling frustrated that I did not wash everything off, even if I'm already clean. I like the squeaky feeling even if it can be bad for you (like it would be too drying).
I mostly get frustrated with my brother in terms of my facial wash. He often steals mine and he uses it so I had to look for something he won't bother to take. Hellooooo Happy Teatime Cleansing foam!
The Lemon Tea foam (as far as I know) is the one that's meant for oily-combination skin. I'd like to tell you more about the other ones, but I can't remember what Rizzy told me. LOL. All I know is that the lemon foam is for my skin type.
I'll probably end up buying the Happy Essential line next time. At least that they're still 150ml. The Vitafoam one was priced the same as the Happy Teatime but it was really smaller.
The Happy Teatime Lemon Tea Cleansing Foam is as big a tube of Creamsilk conditioner.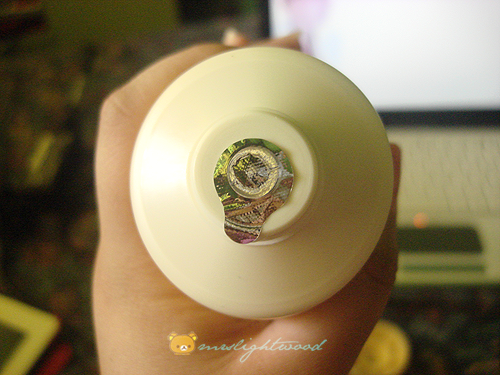 Sealed for freshness! LOL.
Of course, I got blinded again with EH's marketing strategy of buy at least *insert amount here* and get a gift with purchase! Spending P500 will get you a free face mask (which is their usual GWP for that amount).
Obviously I didn't leave the kiosk until I reached the P500 mark. And tadah! Here is my loot.
Happy Teatime Lemon Tea Cleansing Foam (P148), Moistfull Aloe Mask Sheet (GWP), Mascara Remover (P198), Petit Darling Nail Polish in PK008 (P98), and Soft Touch Auto Lipliner in #2 (P98).
The rest are mine but the auto lipliner is for my bestfriend. I already have one like it.
Supposedly, the budget I spent for these were meant to buy face masks from The Face Shop. I'm currently in the face mask mood recently. I actually want to go out right now just to buy face mask sheets.
Well, I can't do anything about it anymore. The damage has been done. LOL. Hopefully next month I can stick to my budget.

Speaking of budget, same mentioned workmate got curious about the items from
Kkochipida
, and I mentioned to her that Charm was selling a pack of Lioele nose strips for just P75 (price in Lioele Philippines is P245!
). She said she wanted to buy a pack so I contacted Charmaine about it. Unfortunately, there is only one box left and I certainly wanted one. Of course it would be too weird to buy just that item and then have it shipped. The shipping fee would be more expensive than the product itself.
So I am now looking for other stuff to add to the delivery, which in turn, ruins my budget yet again.

Well, I have the option not to add anything anymore since workmate Kat decided she wanted to buy the Missha BB cream which I will include in my order so it can get delivered to my place instead and I'll just give it to her when we get to work. Hmmm.. Decisions, decisions.

And since I'm already talking about deliveries; amidst the bad weather last Wednesday, my delivery from Kkochipida arrived! No, it's not the pore strips yet. It's the Mizon Watermax Moisture BB cream!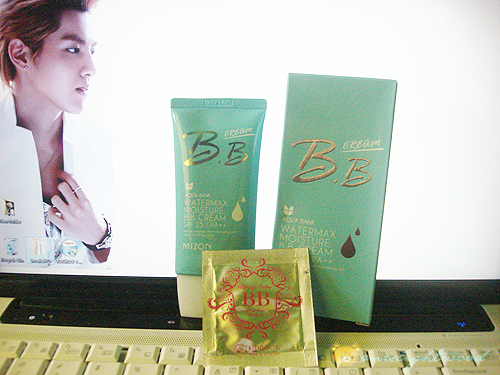 Mizon Watermax Moisture BB cream. The packet is a sample of Elisha Coy's Always Baby BB cream.
It's taking a lot of willpower not to open this BB cream for the moment as I still have other things to try out. I hope can last long! LOL.
How about you guys, have you had any impulse buys lately?
Hi! Sharing your thoughts and experiences is highly encouraged and appreciated. Please do not hesitate to leave your website/blog URL for me to check out either by leaving a comment or posting on the Cbox. Thank you!