First of all, I would like to ask for people reading this to include the Philippines in your well-wishes and prayers. We are experiencing another bad case for heavy rain and a greater majority of the places here in Luzon/Metro Manila are flooded and submerged in water. The rain has not relented for a few days now and everyday gets worse and worse.
I was unable to go to work today due to the weather. Even my cousin who lives in Bulacan is here right now as she couldn't go home from school yesterday.
Obviously, my
Mizon Watermax Moisture BB Cream
from
Kkochipida
won't be arriving today because of the rain. Well, I would rather it be delayed in being delivered than for the delivery guy to be stranded or get into an accident.
Since my (whole) immediate family and I are home and I have nothing to do, I would like to share to you my thoughts on Etude House's White Moistfull Peeling Wash.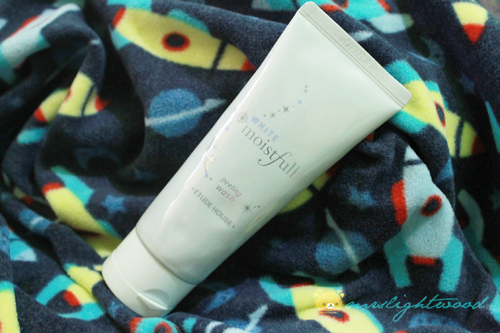 Before moving forward, I would like to apologize for the ugly, washed out lighting of my pictures. It's gloomy outside and that's the best "natural" light I can get from my window.
Etude House Philippines
just posted
this line
on their
Facebook page
last August 1. I got this one like the 2nd week of July so I'm not sure why the posted it just recently.
I bought this at Etude House North EDSA priced at P578 (more or less $12) for a 100ml tube. I also got my mom one since I was trying to fill my basket to reach the P2,000 mark. Hahaha. I was eyeing the
Milk Talk GWP
.
It's pretty much the usual packaging of the facial washes, although, I do find the opening of cap (when you flip it open) is a bit too big. The content is in between creamy and watery; so if you don't shake the content first, it will run out of the tube.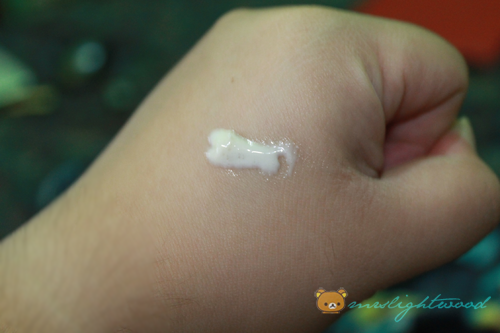 This is how it looks like outta the tube.
Initially, I seriously didn't know how to use this. I didn't pay much attention to Rizzy when she was telling me how to use it.
The direction (which is in English, btw) says that we should dispense and apply the solution on our faces, massaging for 1-2 minutes and then to wash off the excess with warm water.
It says "peeling wash" so I used as I would a facial wash. I wet my face, massage the wash on my face, and then rinse with water.
I got frustrated because I didn't feel anything at all. I didn't even feel the beads on my face, let alone any "peeling".
I was unable to find any reviews or how-to's for this product. I have found reviews for the original Moistfull line (y'know, the one in the pink/peach packaging?).
Luckily, I have found a
review for the original Moistfull Peeling Wash
from
Lotus Palace
.
Apparently, I've been using this peeling wash wrong.
Supposedly,
you use this on dry skin
. I've been using this wet for the first 2 times only to realize that I've been doing it wrong.
So the moment I found out the right way to use it, I did try it out. And hallelujah! I finally felt the exfoliating part (and the beads!).
These are the beads on the peeling wash.
What is looks like when you massage on dry skin.
What it looks like after a minute or 2. Can you see the residue?
So it finally worked! Hooray!
After using this product correctly for one time, I immediately felt it working its magic. My face felt really soft after I used this. Like really soft, I couldn't get enough of touching it. LOL.
I'm not really sure if the residue though were scrubbed off dead skins cells or whatever. Then again, I've only used it correctly once so maybe more effects in the future?
I did think my skin was a bit lighter after using it (or maybe I'm just making myself that it did whiten my face? LOL).
Please note that you can only use it twice a week max! You'll kill your skin if you use this everyday. The beads would be too harsh for everyday use (it's even painful in you scrub/massage too much). Best to use your ring fingers for massaging your face.
The smell! The scent is powdery like that of EH's Petit Bijou line (the blue one). I'm pretty partial to baby powdery scents.
Made my skin smooth after one (correct) use.
Face felt clean even without using a facial wash prior.
A little goes a long way. I believe this product will last you for months (hopefully, though, as we are advised to only use it twice a week).
Whitening is not really visible. But I only used this once, maybe in the long run?
A bit harsh on the face if you scrub/massage too hard. I don't think the beads disappear/melt off your face one you massage it.
The cap! I really don't like that it dispenses too much product from the nozzle.
Overall, I really like this one. I feel that it does exfoliate my skin and it's not just a product that says it has microbeads. For me it does work.
Giving this one a
out of 5.
I also hope this post is helpful to you guys when it comes to using this product! I really felt stupid when I didn't know how to use it.
Hi! Sharing your thoughts and experiences is highly encouraged and appreciated. Please do not hesitate to leave your website/blog URL for me to check out either by leaving a comment or posting on the Cbox. Thank you!