I like online window shopping. I really, really do. The apprehension I have is that I am not physically doing the transaction; hence, my fear of being scammed by online sellers. Even the most trusted sites are subject to f*ck ups. Take
Ensogo
for instance. I ordered a voucher for Californiaberry last July 20 which was supposed to be used this August. The payment is already posted on my Paypal account and my credit card bill (both online posting and the regular bill), still no voucher. I emailed their CS and heard nothing. I posted on their Facebook account and heard nothing. This experience is not something I would like to encounter ever again. So no matter how tempting the products are from Ensogo, I will not buy from them anymore. Sorry, but not responding to customers for weeks is a big no-no.
Good thing
Charmaine
of
Kkochipida
is not like the assholes who own Ensogo!
I've actually known about Kkochipida since 2010 (although she's been in the business since 2009). Unfortunately I was not that into make-up (specifically BB creams) that much at that time (I have phases
). I was curious about BB creams but it was not part of my immediate plans to buy. Also, they were expensive back in the day. Hahaha.
So, after more than a year (and from buying my first BB cream from Etude House) I rekindled my love for make-up (and skincare!). Of course there are a lot of BB cream variations now (back then the only one I can remember was Missha and Dr. Jart), and they target different kinds of skin types.
Currently, the following are the Korean cosmetics brands that I know of that have set up shop in the Philippines:
Etude House (Love love love this!)
Laneige (woah, expensive!)
Skin Food
The Face Shop
Ianti (which I can no longer find the Landmark Department store)
Now, there are other brands out there that have not reached the shores of the Philippines, likely Baviphat, It's Skins, Innisfree, Hollika Hollika, Peripera, Skin79 (WHY YOU NOT HERE YET?!?), Lotree, etc.
Well, there are two ways to get these other brands; 1. You go directly through Korea or 2. You get it from an online seller.
There are many online sellers out there who are passing fake products as the real deal. They mostly look a like; however, please think about your skin/health when it comes to buying make-up/skincare products. Although, we all know that the cheaper the price the better, we have to take into consideration if we're paying for the real deal or not.
Again, there are many online sellers out there and Kkochipida is one of the many online stores in the worldwideweb.
So what makes Charmaine/Kkochipida different?
Kkochipida sells authentic products at reasonable prices!
For example is the Skin79 Super+ Triple Function Beblesh Balm (the hot pink one!) would usually cost P1,200+ from other places, but she sells it for P880. Awesome, right?
She's also very accommodating. She replies to inquiries as soon as she can and she response courteously. I remembered texting an online seller before (and a pretty known one at that) and she was a bitch. It was as if she wasn't interested in talking to her potential customers. Pfft.
Average delivery time is 1-2 days after shipment. I ordered two Skin79 BB creams from her. I got the Skin79 Snail Nutrion BB cream and the Skin79 Super+ Triple Function Vital Orange BB cream, both 5g miniatures. She sold them for P125 each. Not bad, in my book.
What surprises me though is the sachet of Skin Food Royal Honey Emulsion that came with my order. Although, I have been seeing (from client feedback) that she does give out little somethings to her customers, I'm a first time buyer and the total of my purchase was less than P500, I was not expecting something from her.
It was very thoughtful of her to give me that little something to try out.
Delivery of items take 1-2 days once received by the logistics people (excluding Sundays). She shipped my order Saturday and I got it Monday afternoon. Awesome!
She has received a new batch of shipment just a few days ago. The funny thing is that just 2 hours after she posted the pictures of the items on her Facebook account, almost everything was sold out! That's how much her clients have been frequenting her online shop.
I compared her new batch of products to Cebu Pacific's Piso fair, after a few moments it's sold out!
She even told me that her sister was shocked with the amount of people who were chatting with her that night to place their orders.
Even though she actually didn't need to accommodate orders since it was like 10 in the evening. She could have just told them to fill up order forms and it's on a first form, first serve basis, but she didn't. She still replied to queries and took her clients orders.
Talk about dedication!
Unfortunately for me, when I got to see the album (since I asked her to tag me on her latest arrivals), most of the items I would've wanted to purchase are all gone. Boohoo.
So I was checking out the remaining items still on sale and I chanced upon the Mizon Watermax Moisture BB cream. I have never heard of this brand and this is not exactly something that is included in her pre-order brands. I was trying to check out reviews for this product and I only found one from
YellowyCream
. As per the review, she said that it was great for oily skinned people (aka ME!). Since that was the case and it was within the budget, I ordered it.
I think Korea's having a cosmetics sales. She's selling the Mizon Watermax for just P385.
Sige, ako na ang kuripot!
I suppose that's one of the reasons why
this album of her's
is almost completely sold out. She still has items to sell though, you might want to check out her
Facebook page
.
Last week was hell. I reported for duty for 6 days straight due to my work's version of the Fiscal Year End. FML. Unfortunately, there was a rush job that we had to finish which was only assigned to us the day before the last day. So yeah, stress levels up woohoo! And the weather did not help at all! It rains, then it stops, then it rains again. Ugh. I have no problems with the cold temperature, but the alternating wet and dry part of it. Errr...
I'm back to regular programming today, finally! It's my days off today and tomorrow.
Last Monday (my only day off for that week), we went to DV so I can visit the Lioele kiosk there. I have ranted about my initial reaction of the shop
here
.
I have sounded like a whiny bitch on my last post regarding my experience with Lioele Philippines. And now I feel stupid. LOL. However, my initial reaction will not change; I am a bit sober now.
It's not as if I'm trying to bad mouth the company who brought Lioele here in the Philippines. I suppose
I
just
expected too much from them
.
They are only starting out with physical stores. Who knows, maybe they will learn a thing or two with how the other Koream cosmetics brands service their clients.
Maybe they should start with removing the KB items in their Lioele shop in Cavite? Just sayin.
Anyways, obviously since I'm already there, I would get some other things. As a DV girl I am accustomed to haggling. I have learned the rules of the trade from my mom. My mother is a super haggler. For example is that if they sell you something for P100; ask them in they can give it to you for P70. Either they give it to you for P70 or they will tell you that you can get it for P80 (they have to earn, y'know?). P80 is not bad since it's being sold for P100. You can't get P20 off from the mall, people (unless it's a sale)! If they refuse to give it to you, then walk away. You can look somewhere else for that item, or they will run after you so you can get it for the price you want. Scenario # 2 always works like a charm!
So back to my haggling skills, we were doing some last minute look out for things that we might still like when I passed by this store that was selling tops with skulls on them.
I'm pretty much partial to clothes that have skulls on them because they look edgy to me. It's like skulls are my florals.
The original price for the top was P320. They were selling it on sale for P200 and if you haggle they will give it to you for P180. There are only 3 tops left and there are 2 colors; black/pink and black/white. Since I fell in love with the design (it's a sheer batwing top), I wanted to buy both colors. In the end I got both tops for P300 all in all. See? I got two tops with P20 pa na tira from the original price of P320 each top. Hahaha.
Yesterday I decided to wear the pink one which lead to the Outfit of the Day (or Outfit of the YESTERDAY) below:
Korean top from 168 Shopping Mall, Jeggings from The Landmark Department Store, Rubber flats from DV. Sorry for the flash! I took this around midnight, so no natural light.
Ribbon detail
Detail. Skulls!
Sorry if the outfits look very boring. It's been raining for the past week(s) here in the Philippines and no dressing up would be pointless. In times like this I'd rather dress for comfort. The jelly flats I got for P50 ($1) from Divisoria. Honestly speaking, I have 4 pairs of these flats (obviously with different colors!) because aside from the fact that they are comfy (and cheap!) is that they dry out really easily. I can't use my usual flats to go to work since they're going to get killed with too much water from the rain and the puddles. The shoes are my life saver.
Since the month started, I have found myself using a few of my items frequently and these would probably be what I will be using for the entire month, maybe (who knows?).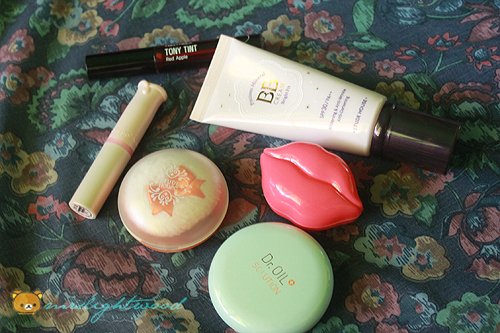 From top left clockwise: Tony Moly lip and cheek tint in Red Apple, Etude House Precious Mineral Bright Fit BB cream in #W24 Honey Beige, Tony Moly Kiss Kiss lip scrub, Etude House Dr. Oil Solution pact, Etude House Cookie Blusher in #03 Orange, and Etude House Dear Darling Ultrashine Lips #14 Strawberry Milk
I will soon get to sharing my thoughts on all of the products above (hopefully. Hehe); but for now, I will be sharing my thoughts on the Etude House Dear Darling Ultrashine Lips in #14 Strawberry Milk.
I got this on their mid-year sale for P299 (I think the original price was almost P400). I'm pretty partial to lipsticks now. I used to hate lipsticks when I was a kid because of their awful taste. Now I'm in love with them since they smell good and they no longer leave that weird taste.
Cute packaging! Longer than the usual lipstick.
Close up in natural light. Swear.
#14 Strawberry Milk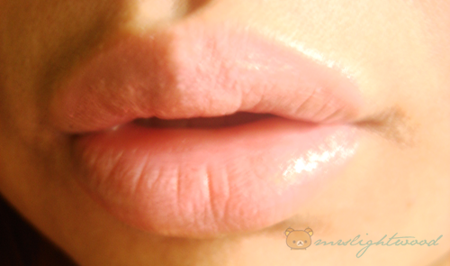 In natural light.
With flash.
The color! It looks natural (tom me anyways), it's slightly nude with a touch of pink/purple.
Moisturizes your lips. It seriously doesn't feel dry.
Easy to swipe. Since it really moisturizes your lips, it's easier to glide. You can get the color in one coat and you can layer if you want more. No need for lipgloss!

Availability. I don't think it's available anymore (any ideas?)
Lasting power. You have to reapply every 2 hours.
I recommend this for those who would like a nude/pink lip color that moisturizes. Most likely for high school/college girls. The downside is I'm not really sure if the mid-year sale is already over or if this is still available. But if it was, I would repurchase this.