Annyeonghaseo everyone! Charot! This greeting sounds so cheesy since a lot of bloggers who talk about Korean things start with this hello. Sorry I'm bored.
Anyway, I am here to talk about Etude House's O2 White Vitamin C Skincare set which includes the Tone-up Tone, Tone-up Emulsion, and Intensive Serum.
Not to keep your hopes up, but I do believe that this line has already been discontinued and it has been replaced probably by their Moistfull White line.
That's the sad thing about Etude House. EH is following the KPop path wherein they feel the need to constantly produce new products after a couple of months or so. They also tend to repackage their items making them their "upgraded" version.
Honestly speaking, most of the "upgraded" products of Etude House are hits and misses. Take their Precious Mineral Bright Fit BB cream. I had the pleasure of testing out the All Day Strong variety and come the time I wanted to buy a full sized tube they already replaced it with the Bright Fit.
The way my face loved the All Day Strong was the total opposite of what I felt with the Bright Fit. Unfortunately I'm not really sure if I actually dislike the product because I got the wrong shade. I'm a Natural Beige but I got the Honey Beige one out of sheer stupidity. Ugh.
When I see a trial of the Natural Beige Bright Fit, I might change my mind. However, the chemistry between my face and the Honey Beige Bright Fit is nonexistent.
So I'm going out of topic again.. Sorry.
I wasn't really that interested with a skin regimen. Before, I just washed my face thoroughly and that was it. No toner, no moisturizer, nada!
I was lucky enough to get 2 sample sets of Etude House's O2 White Vitamin C because of their Sweetie Spin promo.
Each set included 15ml of toner, 15ml of emulsion, and 5ml of serum.
Of course I had to look up what I actually needed to do with the set and I ended up with my cleansing regimen of double cleansing > toner > emulsion > serum.
I have made 2 set last for a month. I swear. I don't feel the need to put to much kasi. Haha.
As per the box:
"Skincare line supplies O2 and Vitamin C to brighten, clarify, and detoxify skin tone".
Since I've been using this for a while now, I can actually give out my 2cents if it lived up to its claim.
Well, after a month of usage I don't think there's much change in my face. I still have much dark spots and blemishes. Of course, I don't expect much to happen in such a short time. Duh!
The O2 White Vitamin C line, although promotes Vitamin C which would have some sorta acid in there one way another, is seriously gentle to the skin.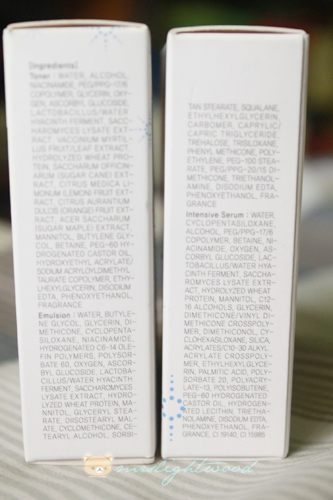 Ingredient lists for all 3 products. My apologies if it's a bit blurry.
I have not had any bad break outs and stingy feeling when I first used this. I would also love to rave about the scent. This has the lemony, orange-y, citrusy, fruity scent that I am quite partial to.
I am so inlove with the smell that I initially wanted to puke when I smelled the Aqua Cure emulsion. It smelled like stale bavarian donut filling. Err..
Dark spots and blemishes aside, I have noticed that my skin has become lighter than it originally was. I have mentioned in the past that my face complexion is darker than my arms and that sucks. Seriously.
As I have been religiously using these products (well, the emulsion and the serum. I am currently using the Wonderpore FreshNer as my toner) and I can see gradual results.
This would have been so much win if it worked better in the long run.



The scent! It is sooooo much win for me!
Not harsh on the skin.
Did make skin tone a bit lighter when religiously used.
No longer available. Unless through their promos.
Could make skin more noticeably whiter and clearer like it is claiming. It's a whitening line so I expected more from it.
Repeat performance?:
Well, I haven't bought this product. All 3 sets have been obtained for free. And since it's no longer available, obviously, one cannot buy it anymore. But I will still use the last 2 sets, mostly because I love how refreshing it feels.
Overall Rating:



out of 5.
Hi! Sharing your thoughts and experiences is highly encouraged and appreciated. Please do not hesitate to leave your website/blog URL for me to check out either by leaving a comment or posting on the Cbox. Thank you!