Finally!
I would like to share my thoughts regarding Mizon's Watermax Moisture BB Cream.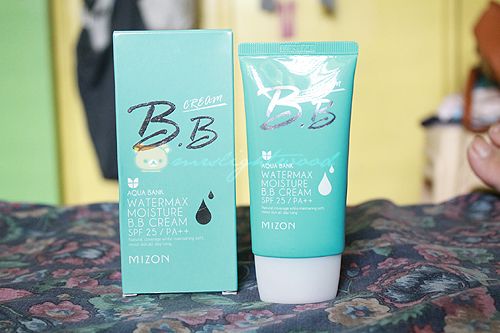 Product Description:
"Mysteriously natural" skin. This product uses silicon and oil-painting like abilities to rest on your skin like snow, lessening irritation and covering any imperfections in a natural way. It also fits well on the skin so even with a light tap, the cream will quickly dissolve onto the skin and create that "mysteriously natural" look.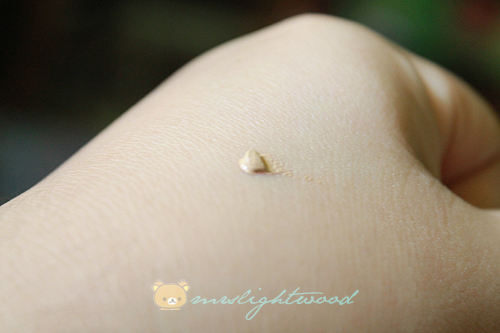 I'm thinking this is regarding the application. The texture of Mizon's Watermax BB cream is thick. Like really thick that I was also surprised because I was used to more runnier BB cream. Fret not, it's not (that hard) to blend. It's actually very lighten when it gets in contact with the skin. I do suggest you use a moisturizer (or a primer) prior though, for a more easier application. Again, it's not hard to blend on the face. A cool thing about it is that when you apply it, it release these water droplets like magic. LOL.
Re-applying makes a more clean and transparent skin! It is so easy for skin to look dark and dull in an unhealthy environment. Unfortunately, using powder alone cannot solve this darkening problem. With this product, if you re-apply this BB cream, it will maintain that same clean look you first put on. It will be a natural-looking base make-up that prevents any un-natural rising of the make-up and can be used for a long period of time.
I have not reapplied this product ever. After I put it on my face in the morning, that's it for me. I don't like lugging around a lot of products anyway. When they say
"can be used for a long period of time"
, they honestly mean it. I only use this one on the face and it works like magic for more than 12 hours! Although, I suppose it would be better to reapply this BB cream within the day since the coverage seem to disappear within 6 hours I suppose. Coverage aside, this BB cream had kept my face matte/semi-dewi for more than 12 hours! I didn't have to use face powder, nor oil blotter. That it how much it keeps my face oil at bay!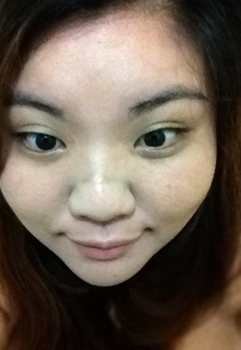 Le face. After 14 hours or so of stress from work, pollution, and Mordor-Orcs of the MRT.
Waterproof Function- strong shield. After you have applied the BB cream, it carries the function of being waterproof so it does not wash away and acts as a strong shield even in water. If in contact with water, it will never turn pasty but just act as a shield. Even if light snow or rain comes in contact with your skin, you do not have to worry because the BB cream is constant and unchanging.
I commute from work to get home and honestly, the MRT in the Philippines is a hell hole. The platforms are sooo hot (and not in a good way!) And seems air is not something the MRT platforms provide, I sweat a lot. Obviously I have to use my handkerchief a lot to wipe off my bodily fluids (on my face) and I feel like I am also wiping off the BB cream. Amazingly, when I get home and remove it, I can still see traces of the cream in my cotton pad (I use Etude House's Lip and Eye makeup remover).Since this is what happens, I suppose it is safe to say that it is (sorta) waterproof.
Clear and lively skin tone. This BB cream won't be too bright or too dark but just right on your skin. The cream will not rise upon the surface of your skin but rest naturally on your face and blend with your specific skin tone, creating that clean and lively skin image.
Well, it does give me that natural look AFTER it settles on my skin. It can appear to light on my skin tone (I'm a natural beige #2 for Etude House / #23 for Missha) when I first apply it but it does settle after a while. Still lighter than my face's skin tone but not too light from my neck. I'm weird because my face is darker than my arms' skin tone (yeah yeah. I didn't bother to use sunblock before). It looks darker than my hand but it's lighter on my face and it settles after a few hours (like Etude House's BB Magic cream).
Sooooooooo.. This is one of my impulsive buys (not price-wise). I have never heard of the brand Mizon before and obviously it's not available in the Philippines.
This video
is actually the only review I can find via Google regarding this product.
According to her this BB cream has kept her face almost oil free for more than 14 hours. She didn't bother to do any touch ups and her face still looked nice after a very long day.
Armed with that one revie, I had to trust my gut when I bought this from
Charmaine
. This was one of the items from her August box that wasn't really being given much attention by her customers. Or so I thought.
I have been testing this product for almost a month and I am absolutely in love with it. I thought no one was paying attention to it on Charm's store, so I was complacent that I could still buy another tube from her this month. But alas, when I was about the buy another tube, it was no longer part of her listing.
I have informed her of my intent to get another tube from her and she did promise to get this BB cream once it's available. Yes people, this is also sold out on Mizon's Gmarket page. OMG!
I'm not sure how long I (we) have to wait until they produce this again but I hope they do so soon.
What I love about this:
Oil control. I honestly do not feel the need to touch up with powder nor use an oil blotter. I have never been this oil free before this product!
Easy to blend. I use my fingers and a sponge afterwards for even application.
Price. Well again, from Kkochipida. She sold this for less than P400 (not including shipping fee). I'm not sure how much is the regular price.
Natural looking after it settles.
Again, oil control!!!!
What's Not:
Not available locally.
Currently not available in Korea either (I believe).
Coverage could be better.
That's it. Honestly, this is my current favorite product. I could settle with the less than stellar coverage but the oil control is so much win!
I recommend this to girls with oil control problems who do not mind they longevity of blemish coverage.
I would honestly buy this over and over again even if I want to get another BB cream. This would always be a staple product for me from now on.
Hi! Sharing your thoughts and experiences is highly encouraged and appreciated. Please do not hesitate to leave your website/blog URL for me to check out either by leaving a comment or posting on the Cbox. Thank you!