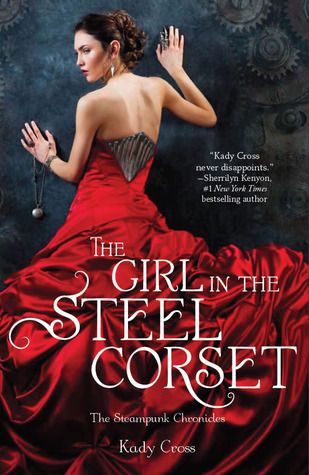 Publisher:
Harlequin Teen
Publish Date:
May 24, 2011
Publisher's Description:
In 1897 England, sixteen-year-old Finley Jayne has no one…except the "thing" inside her.
When a young lord tries to take advantage of Finley, she fights back. And wins. But no normal Victorian girl has a darker side that makes her capable of knocking out a full-grown man with one punch….
Only Griffin King sees the magical darkness inside her that says she's special, says she's one of them. The orphaned duke takes her in from the gaslit streets against the wishes of his band of misfits: Emily, who has her own special abilities and an unrequited love for Sam, who is part robot; and Jasper, an American cowboy with a shadowy secret.
Griffin's investigating a criminal called The Machinist, the mastermind behind several recent crimes by automatons. Finley thinks she can help—and finally be a part of something, finally fit in.
But The Machinist wants to tear Griff's little company of strays apart, and it isn't long before trust is tested on all sides. At least Finley knows whose side she's on—even if it seems no one believes her.
I chanced upon this book while browsing Goodreads' listopia. I usually like to hoard whatever I can and read them for later.
This has kept me company for less than a week. I believe I could've finished this within 1 and a half days, but the only time I have is an hour before I go to work. I started this Tuesday of last week and finished on Friday.
I've seen reviews for this book and there are a number of those who loved it and a number of those who hated it.
Again, I do not know how to review a book, let alone, rate it.
For me, as long as it keeps entertained, then it's good for me.
Entertained did this one keep me.
I'm not really familiar with the genre/term Steampunk. Unless you consider Cassandra Clare's The Infernal Devices trilogy as steampunk because of clockworks, then this is the first steampunk themed book I have ever read.
This series is a mix of old school scenery with somewhat advanced technology.
Corsets, cravats, and machines? Oh yeah, SOLD!
I love how detailed Ms. Cross is with the clothing to the point that I searched for what she was describing in the book and found myself wanting to have my own corset. Oh my!
In the first books we meet all of the major characters of the Steampunk Chronicles and as well as how they came to be like what they are currently. All of which have extraordinary powers due to being exposed to Organites, like Peter Parker being bitten with the radioactive spider.
Albeit, a bit predictable. I was hooked nontheless.
The love traingle between Finley, Griffin, and Jack Dandy is adorable.
They don't do anything but stare and talk to each other, and yet you can feel the tension between them.
I found myself smiling to myself whenever I read about Griffin getting jealous over Jack Dandy.
I mostly enjoyed Jack Dandy and Emily out of all the characters and Sam would be my most hated.
My apologies, but he comes off as a selfish-emo-dimwit. Not really sure about you guys, but I was really pissed off at how dense he was. C'mon, would you tell a complete stranger your troubles and secrets?
I am a bit peeved at the shifts of POV though. One time you're reading about Finley and Griffin and then the next line would be Sam and Emily. No extra spaces to introduce the shift of characters and you have to get used to it.
Other than that, it's a light and entertaining read which I recommend to those who would like to delve in the Steampunk genre. This would be a good book to start your journey with.
Rating:




The Girl in the Steel Corset is book 1 of the Steampunk Chronicles by Kady Cross. Book 2 of the series, The Girl in the Clockwork Collar is out in the market, as well as the e-novella, The Strange Case of Finley Jayne. The third book, The Girl with the Iron Touch will be out in 2013.
Hi! Sharing your thoughts and experiences is highly encouraged and appreciated. Please do not hesitate to leave your website/blog URL for me to check out either by leaving a comment or posting on the Cbox. Thank you!